AutoSEO 2.0 - Flexibility of Your Choice

Even the most advanced system is not perfect. There is always something to improve. While analyzing the success of AutoSEO projects, we asked ourselves "How great would it be if this technology could not only deliver outstanding results to our customers, but also let them command their promotion?". Inspired by this idea, Semalt developers began to work on AutoSEO 2.0.
The challenge was not easy at all. We had to completely rework the whole logic. By the initial design, the software was targeted at the quick promotion of websites without causing penalties from Google. But the system had its limits:
The software distributed link juice equally among all keywords with low search volume.

A user could only observe the progress. There were no possibilities to set up or adjust anything.

Website project page didn't inform the webmaster by what set of keywords the project was promoted.
And we decided to change that.
If you want to skip straight to the point and see what we have achieved, there is an explainer video at the end of the article.
Why Did We Choose to Address These Issues?
First of all, at some point of AutoSEO campaign, a website owner may find a new promising keyword strategy. For example, you conducted a research and learned about a keyphrase with high search volume and low competition. In other words, you came across the Holy Grail of SEO! Of course, you would try to focus your efforts on promoting the site by this keyword. Unfortunately, the previous version of AutoSEO didn't have such option.
Secondly, developing the original software we had no other choices than to stick to a promotion strategy, which is efficient for most of our clients. In short, it suggests placing backlinks for keyphrases with low search volume and low competition. The reason is quite simple; such approach grants astonishing results comparing to other variants. But as for mentioned above example, this is not the best option. The level of the competition is the key. It tends to be quite insignificant for keywords, which are not looked up frequently and extra high for popular queries on the other hand. Also, processing high search volumes created additional load on our systems.
Now, when months of programming, redesigning and testing have passed, we are proud to announce that the automatic search engine optimization has advanced to a completely different level.
AutoSEO 2.0 - The Game Changer in Your SEO
Now, you can manage and control your campaign like never before!
The software distributes link juice among keywords as you wish. You can focus all efforts on one entry only, select a set of the most valuable keyphrases or trust our system to promote your website using the proven strategy.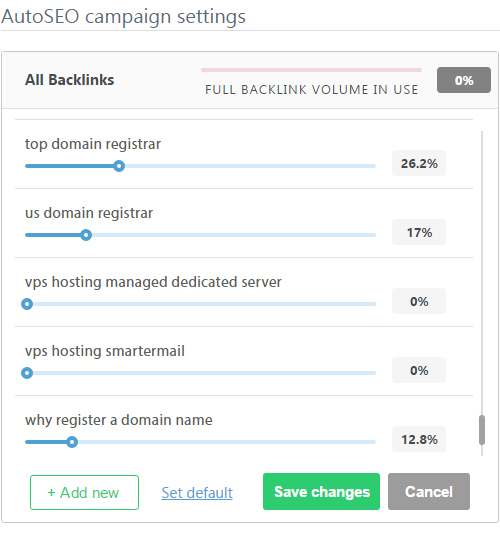 (screenshot of AutoSEO 2.0 user interface)
We keep track of all changes for your convenience. Now you can observe not only the results of the promotion but also its history.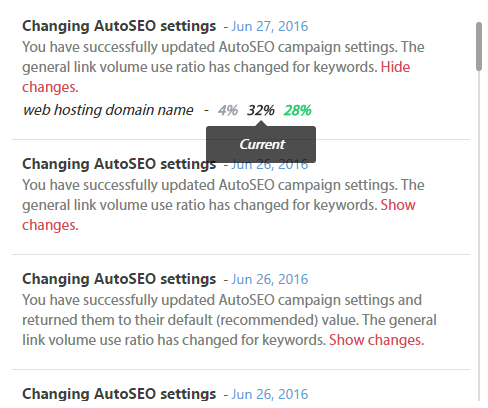 (screenshot of AutoSEO 2.0 user interface)
You are not a mere viewer anymore! Stop watching the progress, participate in the promotion. Benefit from our service as you see fit.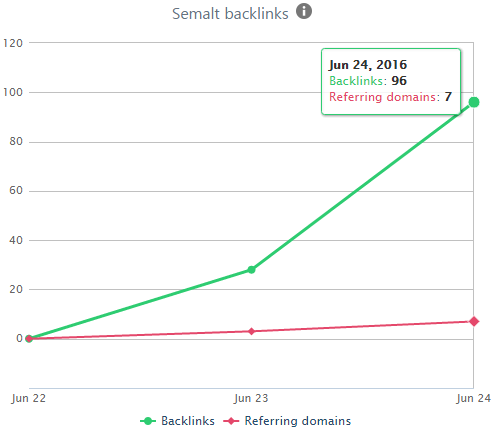 (screenshot of AutoSEO 2.0 user interface)
Owing to upgraded software and hardware, we lifted up the limits for search volumes of keywords. AutoSEO 2.0 users can command backlink placement for more popular queries, which will give them even greater results! Unfortunately, we still do not have enough processing power to remove some restrictions, so a part of keyphrases (and hardware) is reserved for FullSEO clients.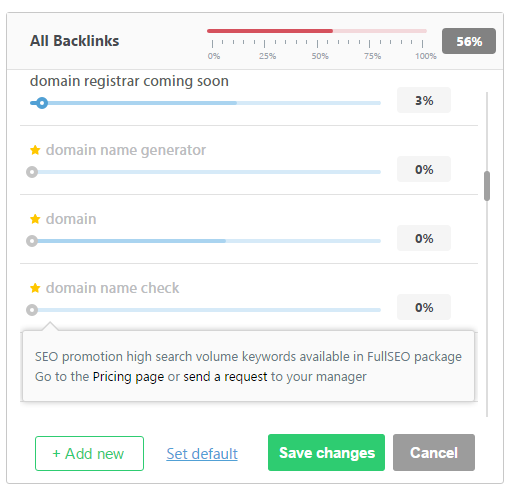 (screenshot of AutoSEO 2.0 user interface)
What Has Not Changed
The system adds backlinks only to those web sources, which are subject-related to a promoted website. We keep content and links relevant.

We keep track of all referring URLs created by our system. You can find the list on the project page. The displayed records are partly masked as required by the privacy policy of collaboration with our partners.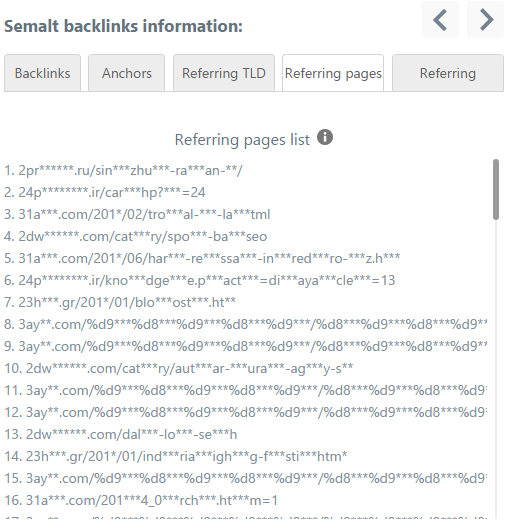 (screenshot of AutoSEO 2.0 user interface)
The AutoSEO 2.0 is built over a concept of accelerated organic growth of link juice. We do not generate backlinks; they are placed on partner websites according to the free will of their owners. We advanced the technology and the level of automatization so that the software adds a backlink only after three requirements are met:

Administrator of a site confirmed interest in the promoted resource;

He or she provides us with a page containing relevant content;

The relevance of the content and the promoted website is verified.
AutoSEO 2.0 Video Explainer
We value your time and understand that this is a huge load of material to read. For your convenience, we created a short explainer so you could quickly get the whole idea behind our innovation.
If you haven't had the game changing experience of AutoSEO yet, you can try it at as little as $0.99 for the first month of use!
0 Shares
9288 Views
1 Comments
Search
Categories
Subscribe to newsletter
Latest articles
All Tags