How to share access to Google Analytics account data

If you need assistance with sharing access to Google Webmaster data account as well, check
this guide
.
Google provides different ways of sharing analytical data in your GA account. Users can control their data and decide whether they would like to share or block access to them. There is a possibility to choose an access level you want to provide. You can add users at the account, properties, or view level. The access rights depend on the access level. You can change an access level to your GA any time you want.
Such GA features let website owners easily cooperate with SEO experts and web developers. By using your account data, SEO experts can correctly adjust your site promotion process for achieving Google TOP-10.
Unfortunately, users unfamiliar with Google Analytics can face difficulties with sharing access to their GA accounts.
Allow us to introduce you our short guide to tackling all your possible challenges concerning it.
1. Insert "analytics.google.com" query in the address bar of your browser or follow this link.
2. If you are not signed in to GA, then you will see a pop-up window with the request to insert your email or phone number to sign in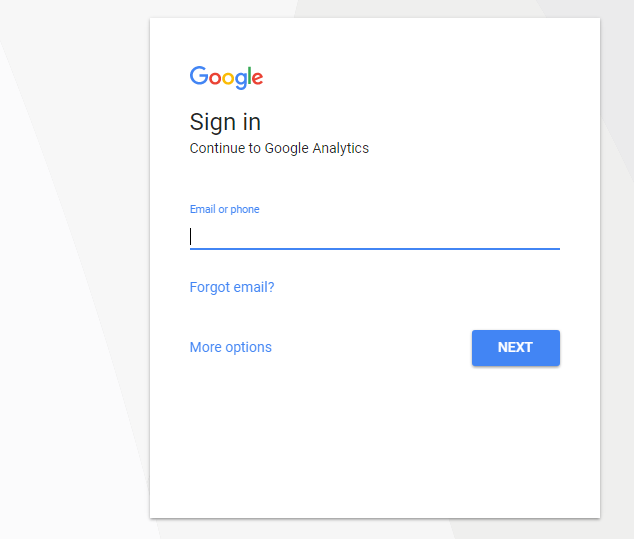 3. Insert your email and click "Next" button
4. To complete the login procedure, fill in your password
5. Your GA account will be automatically open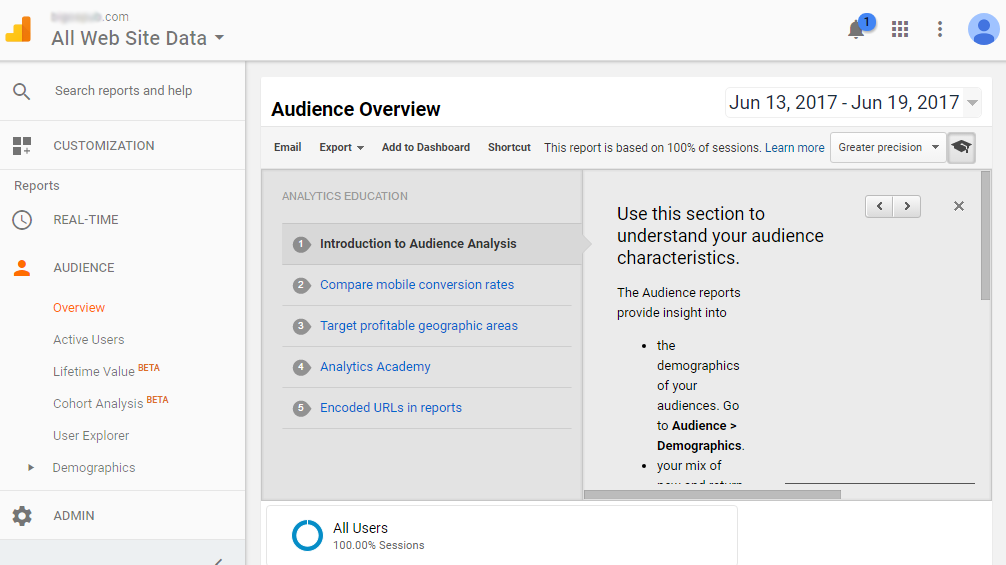 6. At the left upper corner you will find "All WebSite Data" button

7. Click on this button and choose the account where your property is located. Then select the property you need and click on the view.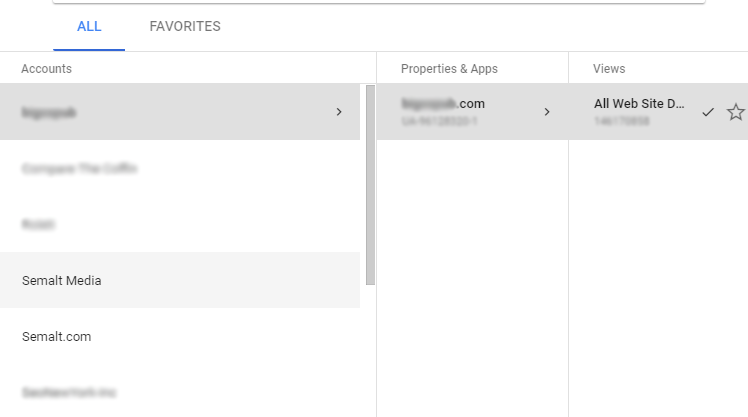 8. Find "Admin" button in your GA dashboard (it is placed at the very bottom of side menu)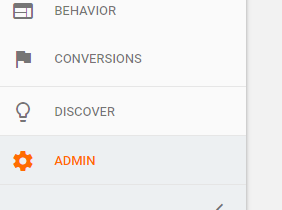 9. In the Admin bar you will find Account/Property/View settings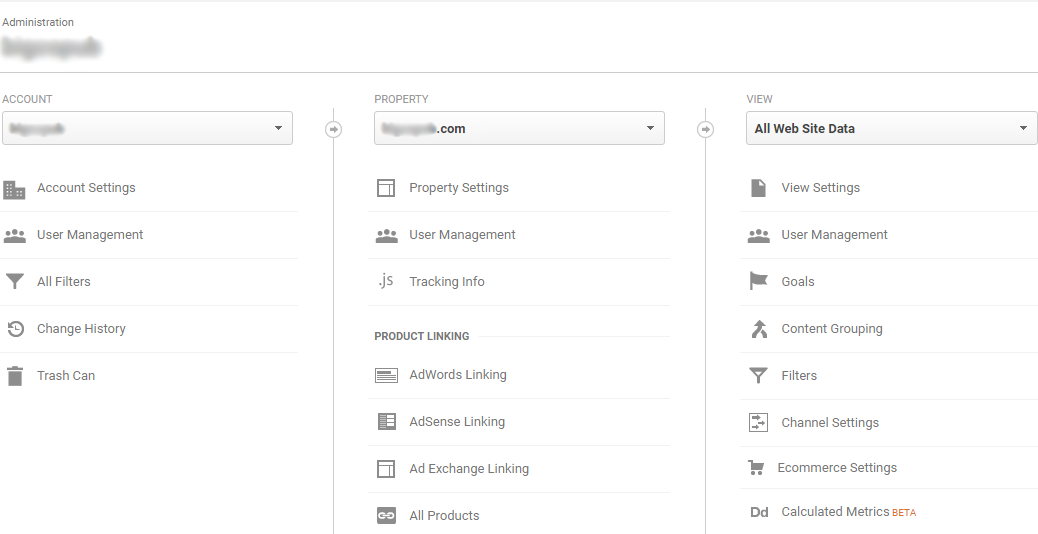 10. Select "User management" in the Property column to share access for one website only. If you need to share access for all websites, then you need the Account column.

11. Insert user's Gmail address whom you would like to share access with to the "Add permission for" section. Here you can see the list of user emails that already have access to your GA data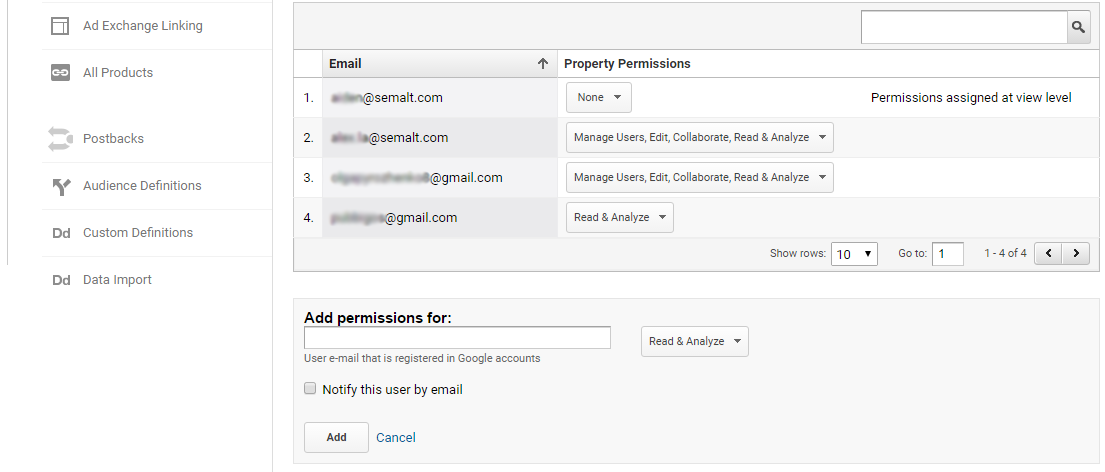 12. Then select a permission level you want

Please note that GA system gives four access levels that are used either separately or in combination. Let's speak about them more detailed.
Important: This access level is required for SEO experts as it gives a possibility to carry out a comprehensive data analysis.
This access level lets users observe analytical reports and configuration data, generate new reports, create personal assets and share them.
Edit feature enables users to see report data and perform such administrative and report-related processes as editing, adding or deleting accounts, filters, properties, etc.
With this access level, you can not maintain users and conduct co-editing.
This access level gives an opportunity to create personal assets and share them with others. You can read and analyze your account data in collaboration with your partners.
On this level, you can add/delete users and grant access. Note that it does not let you edit analytical data.
13. Select "Notify this user by email" setting to notify each user you decide to add to your GA account. A user will be able to view your Analytics directly from his own Google Analytics account.

14. To complete the procedure, you need to click the "Add" button. That's all!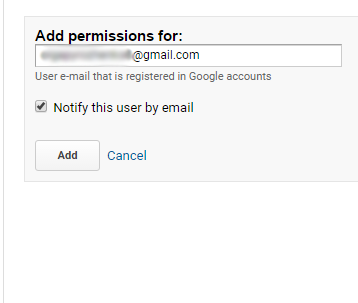 How to check access level of my account visitors?
✓ Open your account in GA
✓ Follow user management page on all access levels
✓ Insert user name whose access level you would like to check
✓ Open the Account Permissions column
✓ Sort out the list by permissions
As you can see, a process of sharing GA account data is not complicated, and with our guide, you would be able to do it simple and easy. So, do not hesitate to cooperate with SEO experts and let your statistics grow fast and steady!
Be sure to contact your success manager if you have any other questions or require assistance.
0 Shares
2577 Views
0 Comments
Search
Categories
Subscribe to newsletter
Latest articles
All Tags