Site keyword ranking improvement - Semalt Auto SEO
Your site keyword ranking has a high impact on web traffic and conversion. It is a primary task of any optimization campaign as it helps to generate leads and boost online business revenue. According to the recent research results, at least 85% of all searchers click on search results on the first SERP page. More than a half of these users chose one of the TOP five results as they automatically consider these websites as authoritative and trustworthy. It shows us a simple digital market axiom - the higher you rank on SERP, the more clickable your site is.
Most of the online merchants would like to observe their websites on the Google first page for given key phrases. It is an entirely complicated task because, as a rule, the first positions belong to old and authoritative domains. Moreover, for some popular search queries Google shows Knowledge Graph under all other websites, giving the instant answer on user's question.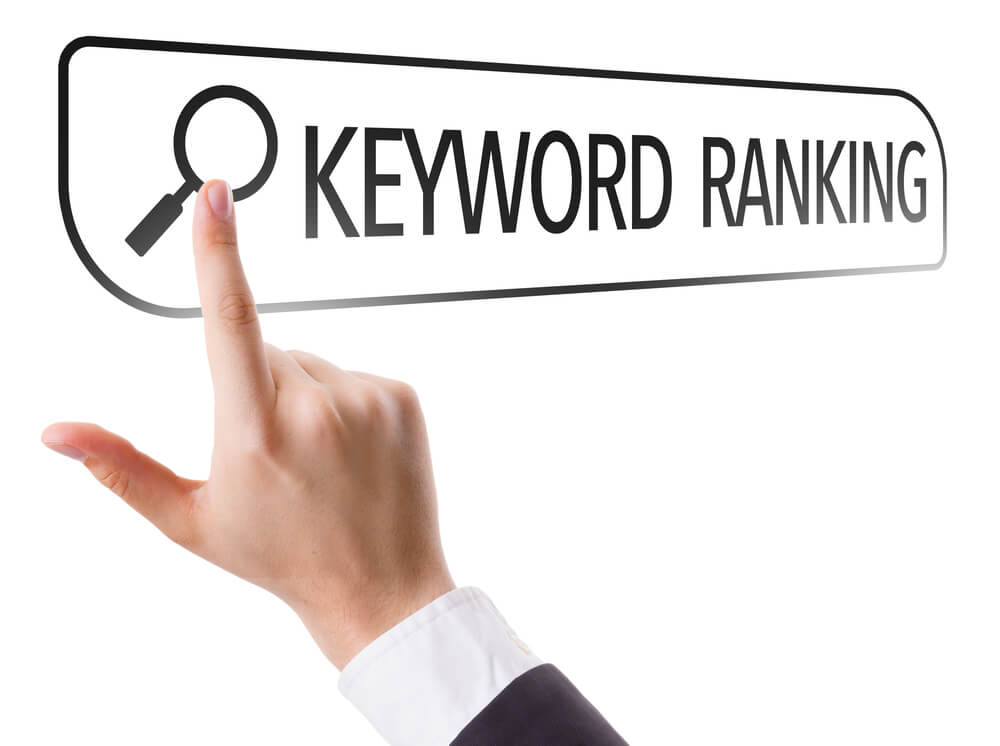 However, it is still possible to get to the highest SERP positions. You need to prepare yourself for a long and challenging road to success, continuously investing in your site optimization and staying up-to-date with new algorithm updates and digital market novelties. There are a lot of useful tips on the web which can help you to improve your site keyword ranking if you can implement them on your site. Moreover, a perfect way to drive more traffic to your website with minimal time expenses is to use keyword ranking tools. Both experienced SEO experts and optimization world newcomers benefit from using different keyword optimization tools. You can achieve a high keyword rank using keyword tools whether you want to improve your site position in organic or paid search.
This article is specially designed for those website owners who have such common questions as "How to improve my site keyword rankings?", "What search terms my website rank for?" or "How to achieve the highest rank for a definite search term?" I will give you some tips how to track ranking for the right search terms and what keyword ranking tools you may use to improve your site position on SERP.
Tips to improve site keyword rankings
Before we start to talk about techniques how to affect your site positions on SERP, I would like to note that ranking for a particular search term in organic search is a repeatable process that requires your constant involvement in a process. It is almost impossible to get the best result all the time because your market niche competitors also do not stand still. However, if you take content marketing, keyword research and other search engine optimization techniques seriously, you can start things happen. So, let us discuss what optimization techniques you can implement to improve your site's keyword rankings.
Track your site rankings for the right search terms
If you would track your keyword rankings in search engines, you need to make sure you focus on the right search terms for your web source. The common mistake online merchants with a little experience make is not a serious approach to keyword research. They assume that they know what search terms their targeted audience use to find their products or services. Others rely on some keyword suggestion tools without determining how they work. As a rule, keyword suggestion tools provide users with a general approach to keyword research. They suggest too competitive search terms that can' give you a competitive edge and in most cases appear useless to your online business.
That is why you need to look for professional keyword ranking services that provide a personalized approach to each client. They automatically conduct your market niche research and competitive analysis to give you a list of the most relevant to your business search terms. They will base your keyword list on private data, providing you with key phrases your potential customers have used to find your site.
There are few keyword research tools on the web that can provide you with the mentioned above services.
Google Keyword Planner
The first and the most commonly used tool is Google Keyword Planner. It is free, generally available and efficient tool designed by Google analytics and webmasters. With the help of this tool, you can find new keyword ideas for your online business that is highly relevant to your industry. Google Keyword Planner provides users with historical statistics of their search term ranking positions and other search volume data. Moreover, it shows how competitive a keyword you select is and enables you to understand whether you have a chance to rank higher on Google by this word or not.
In this free Google tool you need to use only three options for SEO-focused keyword research:
search for new keywords, using a phrase, website or category;
get search volume data and trends;
multiply keyword lists to get new keywords.
The first one option is ideal for finding new search terms. However, you need to be aware that the search terms you get from this tool are as a rule closely related to the seed search terms you put into it. The benefit you get from this tool directly depends on the information that you insert in it.
I advise you not to insert broad industry terms in the "product or service" section as you are risking to end up with a list of highly-competitive search terms that won't give your site any value. It is quite smart to enter long-term key phrases in a slightly different market niches.
Other option which is called "product category" provide us with access to Google's internal database of search terms for different market niches. Here you have an opportunity to underline new keywords that you might have missed on the previous keyword research stages.
Google Keyword Planner also gives you an opportunity to target your keywords by language, country and search engine where you would like to promote your business. Moreover, you may customize your search by setting the number of filters like "keyword filters" and "keyword options." With the help of these tools, you may filter out keywords that do not meet your criteria and have a low search volume.
And finally, this tool gives you an option to multiply keyword list to get new keyword ideas. With the help of this valuable option, you receive an opportunity to match groups of the most relevant search terms into the significant amount of the related word combinations. By using this feature, you identify all possible word combinations your potential customers may use to search for your products or services.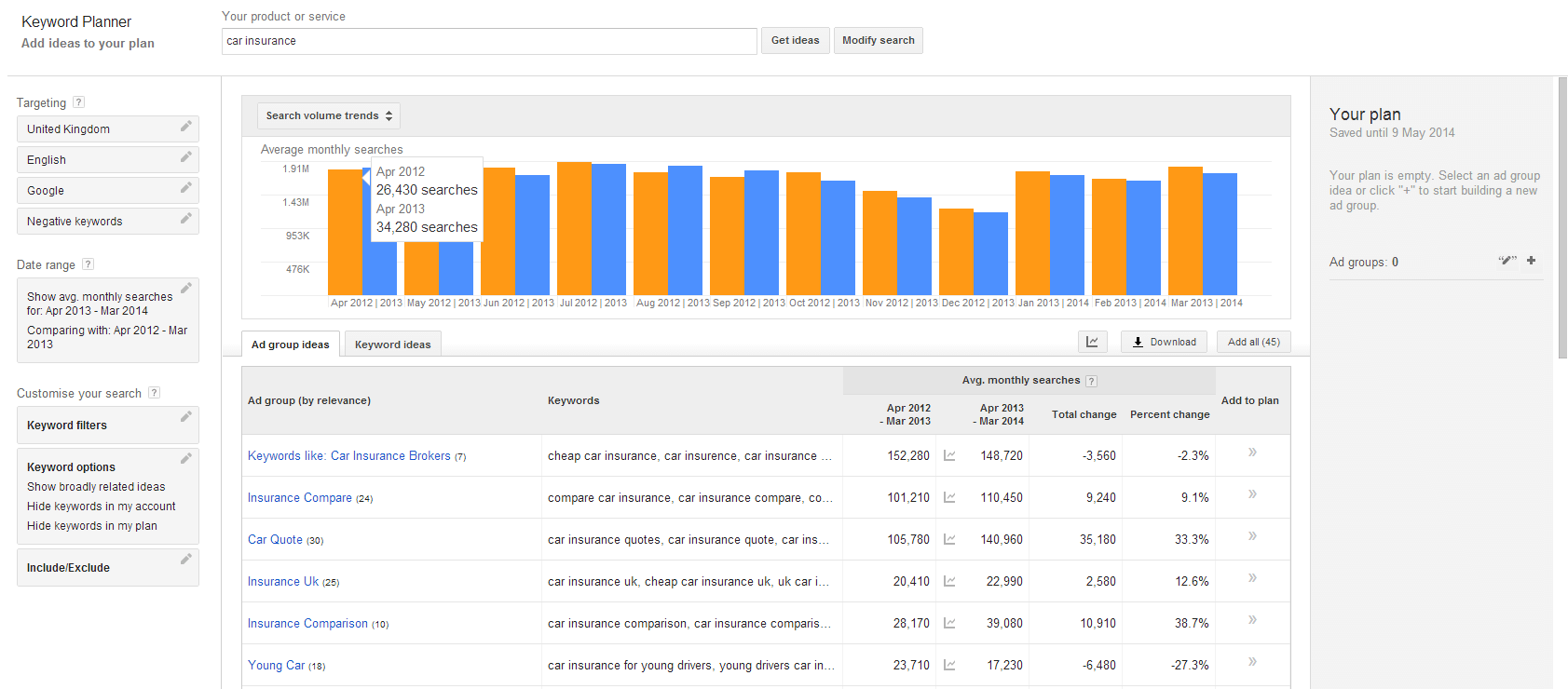 Semalt Auto SEO
It is another keyword planner tool that serves as a perfect alternative for Google Keyword Planner. It is specially designed for those website owners who want to increase their sales online but know a little about search engine optimization strategies. It is a very user-friendly optimization tool that gives a lot of benefits for online merchants. The best about this tool is that you get a constant support of professionals on each stage of your site keyword rankings improvement.
Semalt Auto SEO tool makes your site more search-engine friendly and trustworthy, improve your site visibility on SERP and increase your brand online presence.
This tool includes the following services:
the most suitable for your business keywords selection;
website research for any optimization omissions and errors;
existed errors correction;
market niche research;
competitive analysis;
building links to the niche-related websites;
constant ranking updates;
full customer support.
As soon as you register your site with Semalt system, it's website analyzer will give you a brief report concerning your current website situation (correspondence with SEO industry standards and existed errors you need to eliminate to improve your positions on Google). After that, a system under the control of SEO specialists conducts a comprehensive keyword research, providing you with selling and traffic-generating search terms. It is worth to note that Semalt Auto SEO generates narrowly focused, non-competitive keywords that maximally relevant to your business. You will be provided with long-tailed key phrases that customers use to find products or services like yours.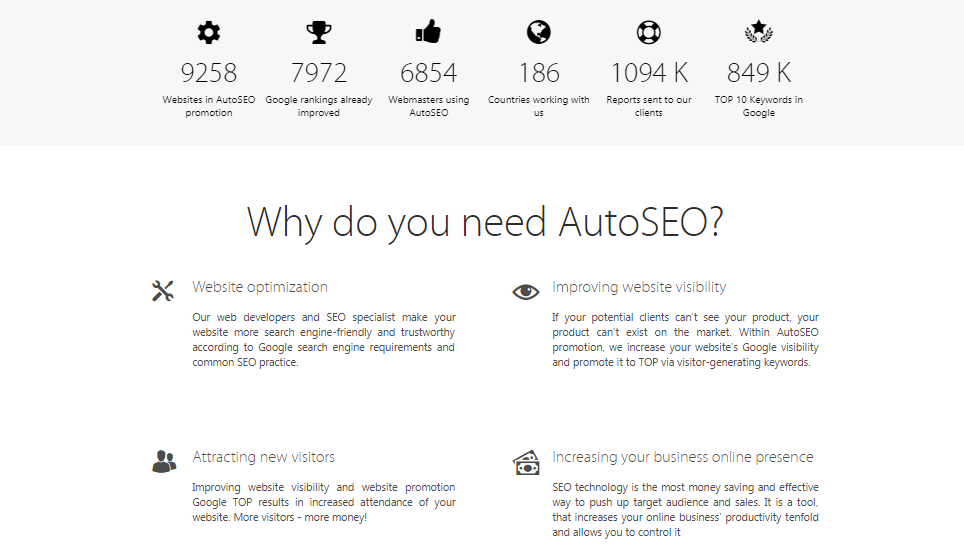 As for other optimization services this tool provides, they refer to link juice generation. They place links to the relevant niche-related web sources that place in Semalt database. All links are integrated into the unique content that also provided by Semalt content management team. Semalt SEO specialists keep constant track of links and their placement, providing you with white label reports about your off-site optimization process. If you give access to your content management system, Semalt webmaster make required adjustments in your website code.
One more benefit of Semalt Auto SEO tool is that you have an opportunity to keep up with your optimization campaign progress, receiving reports with daily site keyword ranking updates.
Make an accent on long-tail search terms
Now, when you have already learned how to track site rankings for the right search terms, it is time to consider your business intent. The more specific your key phrase, the easier to understand your potential customer search intend. When you have information what users are searching for, you double your chances to provide them with what they exactly want. You need to find the best one result that satisfies the searcher's needs. Otherwise, they will return to the search results to find the more precise answer to their query.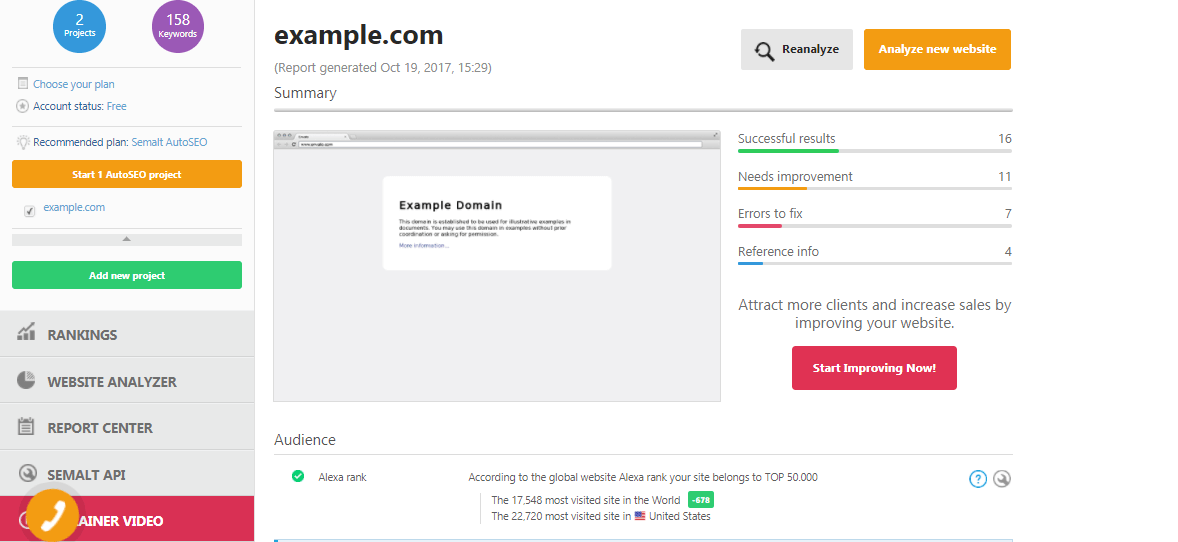 Create relevant content around the selected search terms
On the next stage, you need to create a content plan for each relevant search term. There are a lot of variants how to rank for a keyword. The most useful and working ways include blog posting; articles, guides, and tutorials writing; product descriptions generating; directory of links; visual content; infographic.
It is up to you to create your content in-house or outsourcing. The basic rule you need to memorize is that your content should be relevant to your business, unique and up-to-date. Quality content is your opportunity to get more relevant backlinks and improve your brand awareness. In our days, search engines are looking for high-quality content that benefits user needs and develops their search experience. They do not rank high a content which is staffed with key phrases and only benefits website owner. Google strictly punishes web sources that publish quality, not unique and staffed content.
Optimize your content for relevant keywords
This stage should go alongside with a previous one (create relevant content around the selected search terms). You need to optimize your content while you are building it. It is much better than optimizing already existed content. That is why leverage your high-volume search terms where you can see in your content. However, do not overload it to sound natural. Make sure you place search terms in the right places to let search crawlers understand your content topic as quickly as possible and give it as a relevant result to users who perform a search by the related keywords. You obviously need to include high-volume keywords in a title, description, headings, and subheadings as well as at the beginning of your article, in URLs and image descriptions (ALTs).
Publish and promote your SEO-friendly content
On the final stage, you need to push your ready-made content out into the world. It is smart to schedule this process, publishing your articles at regular intervals. It is significant for content which is tied to something in the news or a trend. While releasing new content, you need to cooperate with PR command to immediately promote it on the web.
To conclude, I would like to mention that accurate keyword data, and quality keyword research gives a push to your online business, providing more value to your search marketing efforts. By improving your site rankings for the search terms that matter most to your business, you receive an opportunity to get to the TOP of search engines and double your revenue.
0 Shares
3320 Views
0 Comments
Search
Categories
Subscribe to newsletter
Latest articles
All Tags