The significance of raising the organic CTR

Gone are the days when Google SERP looked as bare and easy as it looks currently for the query "Google SERP." There are a lot of factors that affect site position and accordingly its conversion. One of these factors can rightly be called CTR (click-through rate).
In a nutshell, CTR is the ratio between the website views and clicks it gets in SERP. For instance, a site appears in Google TOP 10 for a particular query and then ten users browse for this query. However, only one of them decides to refer the information on this web resource. In this case, CTR will be equal to 10%.
Why does the organic CTR matter to website rankings?
To improve the search quality, Google includes behavioral factors in the ranking algorithm. One of these factors is click-through rate. If an irrelevant query appears in Google TOP-10, it's CTR will be lower than average for such positions and niche. After a while, this web page will be out of Google TOP due to the behavioral factors. And finally, it is not enough to obtain TOP positions in SERP. You need to make your targeted audience follow your link.
❑   Site position in SERP
The vast majority of users visit the websites in the first SERP page. The studies have shown that users read the information on the screen by F-form trajectory, spending approximately 80% of their time searching through the information they can see at once (1st - 5th site positions). In total, about 83% of people give their preference to the first five search results.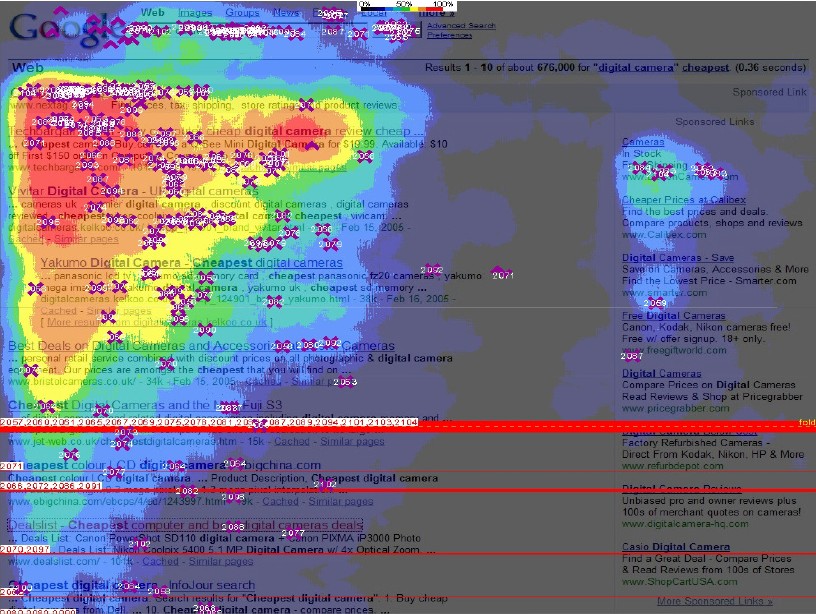 ❑   Title Tag
Title Tag is a text which is displayed as a link in SERP. It tells users about page content and allows them to evaluate the relevance of this page to their query. The title tag has an impact on user decision whether to follow the website link or not. Do not put a set of keywords in your title. Make it for people, not for the web crawlers. It should be brief, informative, readable and even intriguing.
❑   Meta description
Meta descriptions give users a clear understanding of what they will find on the page. It gives the website owners an opportunity to advertise their sites for free.
Let us consider the example of such query as "to buy iphone7 in the USA".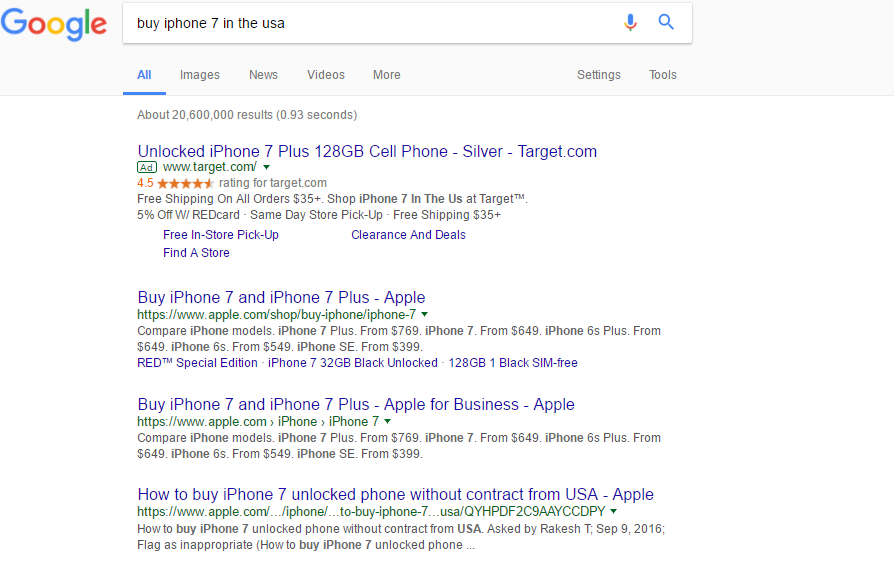 Note the snippet of the site, which ranks first. It looks more clickable to users than the snippet of the second-ranking website, where we can observe an unclear set of words without any attention-grabbers.
Your meta description should include a unique marketing proposal, an original idea and the average cost of the products or services you propose. This information should be relevant and catching.
❑   Rich Snippets
When Google put rich snippets into practice, all leading search engines had to announce about their support of schema.org. Schema.org serves to supply search engines with needed information and give them a clear understanding of the particular web page content, so they could provide the most relevant search results at this time. Schema markup significantly improves the way your page is displayed in SERP by enhancing rich snippets.
Rich snippets are the short texts or images placed under the site title. They inform users about web site content relevance. Rich snippets may include reviews, rating, quick links, site sections, coming events, music, videos, related organizations, location, authorship.
Example 1: ratings included in the snippet.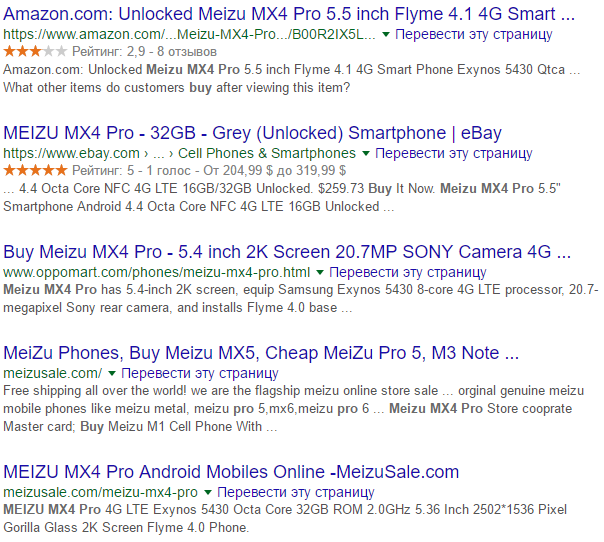 Example 2: a snippet with video thumbnail.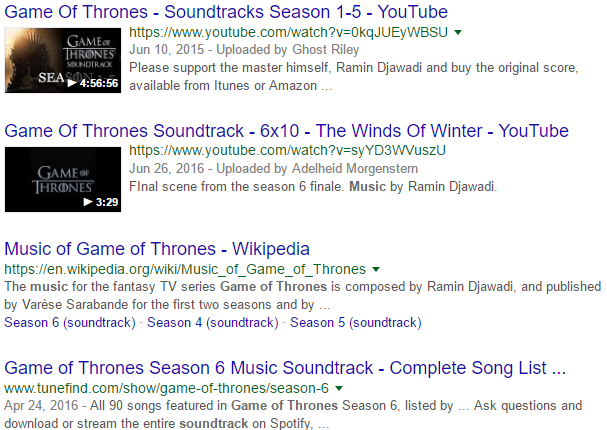 Example 3: a snippet featuring an answer to a query.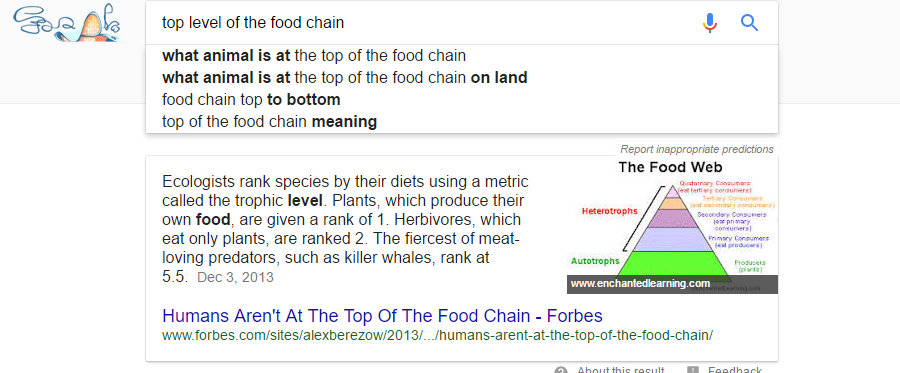 To sum up, it is worth noting that using all the following ways of attracting user attention, you have a chance to rise your click-through rate and accordingly the conversion rate.
How clickable is your site?
How clicks are distributed by the site positions in SERP? It depends on the various factors, such as niche specifics, query length, user age, gender, query region and request subject.
Someone inserts a general query "to buy headphones" and opens all e-commerce sites on the first search results page. Another user instead enters a more detailed query and follows the link, which is of the most relevance to him, paying no attention whether it ranks first or tenth in SERP. Moreover, you may face other difficulties in the CTR calculation, such as a site position, the number of queries and search personalization. All these factors change every day.
This year a full-service digital marketing agency, Ignite Visibility conducted CTR study to determine CTR for the certain positions in Google. There are 5,000 user searches from Google were analyzed.
According to the research findings, click to impression ratio was distributed as follows: the first site position obtains 44,64% of clicks, second and third web pages have approximately the same percentage ratio - 28,92% and 28,52%. The fourth site position has a slightly lower click-through rate - 19,50% while the fifth position CTR is 20%. All the following positions show a decrease in CTR. We can observe a significant leap of the 10th position - 17,26%. It can be explained by its place at the bottom of Google SERP.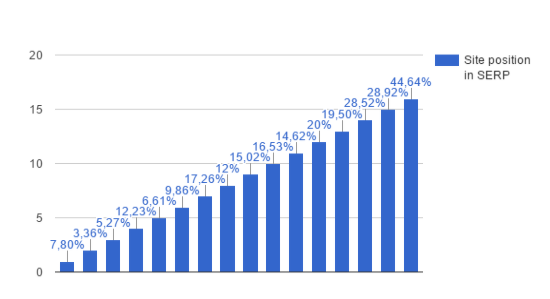 On the basis of this research, we can see that there is a clear correlation between rankings position and click-through rates in Google. The users click on the TOP-10 web pages several times more than the second-page sites. It is predictable that CTR percentage will be minimal after 16th position in Google SERP. It tells us that search engine traffic still has high user engagement and interaction and the sites that are placed lower than TOP-5 can also get conversion due to high CTR. So, if your site is 10th in the 1st SERP page, keep your head up, you are in the game. Everything you should do now is to keep it ranked well, so it won't lose its spot.
This research is of a great significance to web developers because they receive up-to-date data on how click-through rate works and understand how they can improve sites to make them more user-friendly. Keep track of the events, make adjustments in time and you will succeed!
0 Shares
551 Views
2 Comments
Olya Pyrozhenko
Jul 6, 2017, 12:21:14
Güzel sözleriniz için teşekkür ederim. Bu bizim için en büyük ödül
Search
Categories
Subscribe to newsletter
Latest articles
All Tags